 Lancom e NetIX lançam parceria para expandir e fortalecer a disponibilidade de serviços em toda a Grécia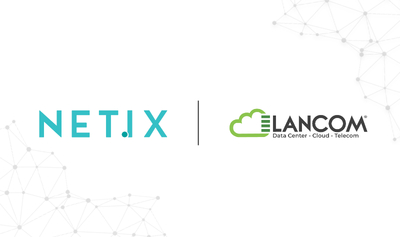 Desculpe, esta notícia está disponível apenas em inglês
Thessaloniki, Greece & Sofia, Bulgaria – 30th May 2023: NetIX, the leading global distributed platform for award-winning connectivity and peering solutions, and Lan Communications (Lancom) a privately owned Greek provider of data centre, cloud and telecoms services, have today announced a new long-term partnership agreement that will expand NetIX services into Greece with Lancom customers being able to benefit exponentially.

Lancom is actively investing into this Greek expansion by financing the operational and physical build out, and will promote and sell the NetIX services to its prospects and customers. NetIX will continue to provide and be responsible for the network management and layer 2 customer support.

Neven Dilkov, NetIX founder and CEO commented, "We are thrilled to partner with such a well-known and respected company as Lancom across Greece." He continued, "Customers will be able to enjoy NetIX's award-winning GIX (Global Internet Exchange) service, along with other services including cybersecurity and Point-to-Point connectivity from multiple locations across Greece all under one global SLA (service level agreement). We are sure this partnership will benefit many networks and enterprises and help simplify network expansions and bring peace of mind to network engineers!"

George Nolis, CEO of Lancom, expressed his enthusiasm about the exclusive partnership with NetIX, stating, "This collaboration marks a significant milestone for Greece and Lancom as well. We will provide direct access to NetIX's extensive network to all existing and future network providers, as well as enterprises present in our country." He continued, "Imagine connecting directly to over 200 locations worldwide, including more than 30 Internet Exchanges like DE-CIX, AMS-IX, LINX, and our local GR-IX. We will also offer connectivity to major cloud providers such as Azure, AWS, Google Cloud, as well as Over-The-Top (OTT) content providers like Facebook, Instagram, and Apple.' He also added, 'NetIX will be immediately available countrywide by leveraging all our data centers, including Balkan Gate Thessaloniki and the upcoming Balkan Gate Crete. Additionally, we will utilize the Points of Presence (PoPs) that Lancom maintains inside all the major data centers in Athens and Thessaloniki, along with our proprietary Fiber-to-the-Business (FttB) network."

NetIX remains dedicated to being recognized as industry experts in Internet Exchanges, peering and peering services, and will partner with any Internet Exchanges located in Greece to help improve local networks' connectivity and performance whilst providing better access to local content from anywhere in the world.

Lancom customers can now access all NetIX's 200+ global locations, 30+ Internet Exchange Points (IXPs), and their award-winning Global Internet Exchange (GIX) peering solution and any other solution available on NetIX's service portfolio directly from any one of Lancom's locations.

Are you ready to benefit from NetIX and Lancom's partnership? Access simplified global connectivity solutions from any one of Lancom's locations. Reach out to the team to discover new ways to improve and enhance your network reach by emailing [email protected] or visit netix.net for more information.


About NetIX 
Our next-generation network accelerates the Internet; we connect content creators with users faster, cheaper, and more directly than ever. 
Our network stretches across more than 200 global data centres in 65 cities from 55 countries. The NetIX platform connects our 180+ members to content from 9,000+ visible networks and 30+ Internet Exchanges and reaches daily peaks of 2Tb of traffic throughput.
NetIX offers the best possible Internet connectivity: our members can directly exchange traffic with peers, giving their end-users faster page-load times on 90% of the most popular sites.
Our members include Internet service providers, broadcasters, telecoms operators, and content delivery networks - all the peers your customers need to access!

About Lancom
Lancom, the leading provider of data center, cloud, and telecoms services in Greece, owns and operates three state-of-the-art Data Centers in Athens and Thessaloniki, along with a proprietary Fiber Optic Network that spans across Greece with worldwide connections. Balkan Gate Thessaloniki, is the largest carrier-neutral Tier III data center in Northern Greece and is directly connected with major telecommunication providers in Greece and the Balkans. Lancom's recent investment in Crete will establish a dynamic telecommunications route in the wider region of the Balkans and the Southeastern Mediterranean.