 NetIX's Inaugural Members' Meeting
NetIX's Inaugural Members' Meeting
Online
4th - 4th February
2021
Everyone's invited to NetIX's very first members' meeting.

Join the NetIX team and industry peers for the very first NetIX members' meeting (although it's open to everyone!).
Not only have we added new partners, data centres and won awards, but over the past two months our peak traffic across the platform has increased by almost 200Gbps!
In this members' meeting, we'll be discussing new global, national and regional trends we've noticed across the peering and telecoms landscape with top industry peers, and finish off with an update on what has been happening at NetIX - the Global Internet Exchange.
Register to join our panel discussions with top industry leaders:

Featuring in NetIX's first meeting will be Frank Dupker, European Network Manager at NaWas by NBIP. NBIP is a NetIX member, and will share their experience of the platform and how their DDoS mitigation services help many networks protect their data and reputation.
The NBIP was established in 2002 by a group of Internet service providers, as an institute for implementing lawful interception warrants as stipulated in the Dutch Telecommunications Act. Since then, the organization has become a reliable institution with a growing number of members. NBIP offers the well-known NaWas, one of the largest anti-DDoS systems in Europe.
The NBIP attaches great importance to sharing knowledge. We conduct surveys, speak at events, inform members regularly about new developments, and organize meetings where members can swap their experiences.
In addition, the NBIP consults closely with the Universities and governmental institutions on its areas of interest.
Also joining the day of presentations will be: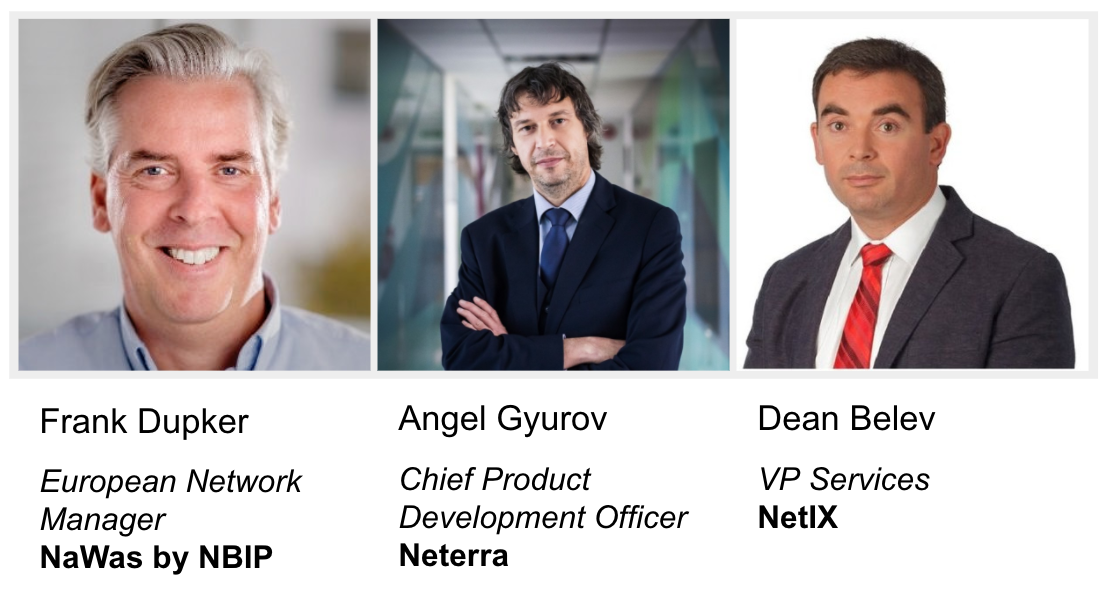 Agenda:
3:00pm - Meeting start
3:05pm - CEO welcome, Neven Dilkov
3:15pm - NetIX commercial update, Angel Gyurov - Chief Product Development Officer, Neterra
3:25pm - NetIX product and service update, Dean Belev - VP of Services, NetIX
3:35pm - Panel discussion:
George Szlosarek - Moderator
Mauro Magrassi - CTO, MIX
Akio Sugeno - VP Engineering, Telehouse/NYIIX
Neven Dilkov - CEO and Founder, NetIX
Fabricio Costa - Regional Director - South America, NetIX
Kaushik Sengupta - Business Development Lead - Asia Pac, Neterra
Panel subject: a range of topics all within peering, the future of the IXP and customer demands for 2021.
4:10pm - Technical Member Presentation - Frank Dupker - European Network Manager, NaWas by NBIP
4:20pm - Q&A session
Close