 Discover AMS-IX with NetIX
NetIX has over 30 IXPs partners, and today, we'd like to shine a spotlight on AMS-IX - the Amsterdam Internet Exchange
- AMS-IX is one of the biggest IXPs in the world:
Known as one of the 'big three' global IXPs, AMS-IX has 880+ members in Amsterdam with another 1,000+ members worldwide.

- They provide access to unique content:
AMS-IX has 854 unique ASNs peering at their exchange.

- They're expanding into Egypt:
AMS-IX has exchanges in Amsterdam, Hong Kong, Bay Area, Chicago, Curacao and Mumbai, and delivers Internet Exchange-as-a-Service (IXaaS) in Manama and has just signed a new IXaaS contract for an exchange in Cairo!

- They have a huge range of members:
Being one of the biggest IXPs in the world, AMS-IX has members from pretty much every background like ISPs, carriers, cloud providers, CDNs, application providers, SaaS companies, enterprises, gaming companies and e-Commerce providers!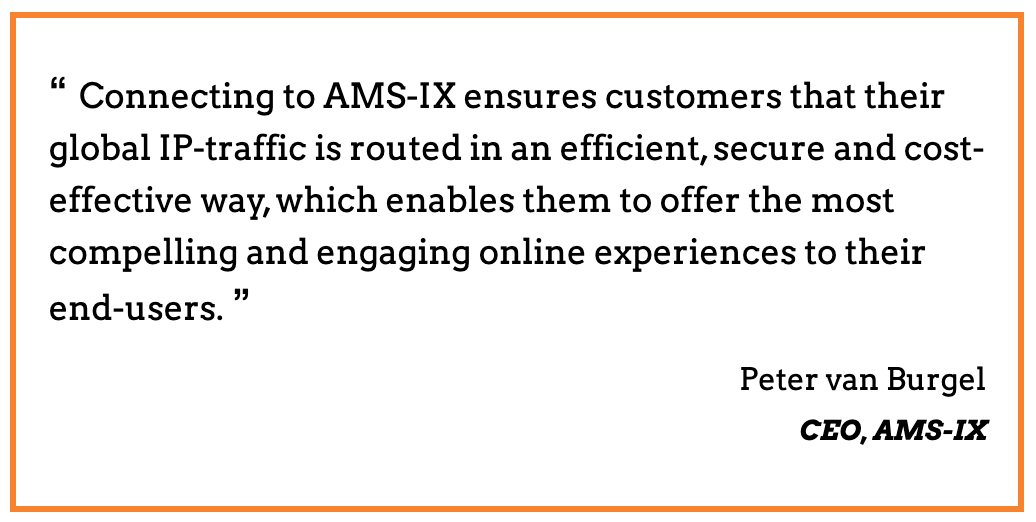 Not in the Netherlands? No worries!

Connect to AMS-IX from any one of NetIX's 150+ locations with just one port, one cross connect and one contract - and if you aren't near any of those, connect via the public Internet using our Tunnelling over Internet solution - easy!