 NetIX breaks its own traffic record twice in two days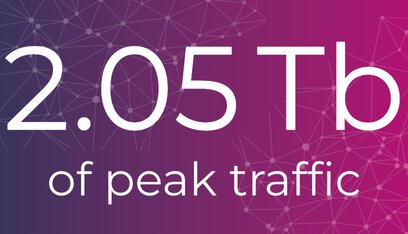 NetIX breaks its own traffic record twice in two days
Sofia, Bulgaria – 21st February 2023: NetIX, the leading global distributed platform for award-winning connectivity and unique peering solutions has seen two record-breaking levels of traffic being exchanged across its network in consecutive days.
February 13th saw NetIX's total traffic across its network reach 2.04Tbps (Terabits per second), and just a day later, the global IXP smashed this new record when its maximum throughput grew a further 10Gbps (Gigabits per second) to reach another new record high of 2.05Tbps.
Dean Belev, VP of Services at NetIX, commented, "To have two record-breaking traffic totals on successive days is something to celebrate. At 2.05Tbps, NetIX is now the 17th largest IXP based on maximum traffic in the world; in February 2021, NetIX was the 24th largest, so to climb seven places in two years – whilst all the other IXPs are also growing – really shows the true growth acceleration of the NetIX platform."
This is not the first time NetIX has acknowledged its dramatic traffic growth; in November 2020 NetIX reached its then-record-breaking traffic peak of 650Gbps, two months later it grew to 730 Gbps, and just one week later it increased by more than 100Gbps to 850Gbps.
"I feel truly proud to see NetIX growing and proving itself in the IXP and peering arenas," said Elaine Dixon, Marketing and Partnership Manager at NetIX. She continued, "Many networks can claim they're growing, and you just have to take their word for it, but with an Internet Exchange like NetIX that's so transparent about its traffic levels, its growth and success is undeniable."
NetIX's 2Tbps+ traffic levels weren't a total surprise as the Exchange has added several new members recently, with each network bringing and exchanging a lot of bandwidth over the platform. This rate of traffic expansion continues to make NetIX the fastest growing IXP in the world.
Traffic levels are expected to increase and grow for 2023 as NetIX continues to strengthen its network across South America, specifically in Brazil, the United States, and opening new markets in the Asia Pacific region.
The NetIX platform brings simplicity to peering expansions via a single connection; NetIX is home to 180+ members, 30+ IXPs, and 9,000+ networks across 65 cities and any connected network can benefit by connecting to any peer or location using the same port.
Unleash the power of NetIX's platform; reach out to the team to discover new ways to improve and enhance your network reach by emailing [email protected] or visit netix.net for more information.
View NetIX's live traffic statistics here: https://www.netix.net/graphs
About NetIX
Our next-generation network accelerates the Internet; we connect content creators with users faster, cheaper, and more directly than ever. 

Our network stretches across more than 200 global data centres in 65 cities from 55 countries. The NetIX platform connects our 180+ members to content from 9,000+ visible networks and 30+ Internet Exchanges and reaches daily peaks of 2Tbps of traffic throughput. 

NetIX offers the best possible Internet connectivity: our members can directly exchange traffic with peers, giving their end-users faster page-load times on 90% of the most popular sites.

Our members include Internet service providers, broadcasters, telecoms operators, and content delivery networks - all the peers your customers need to access!