 NetIX to attend Capacity Europe 2021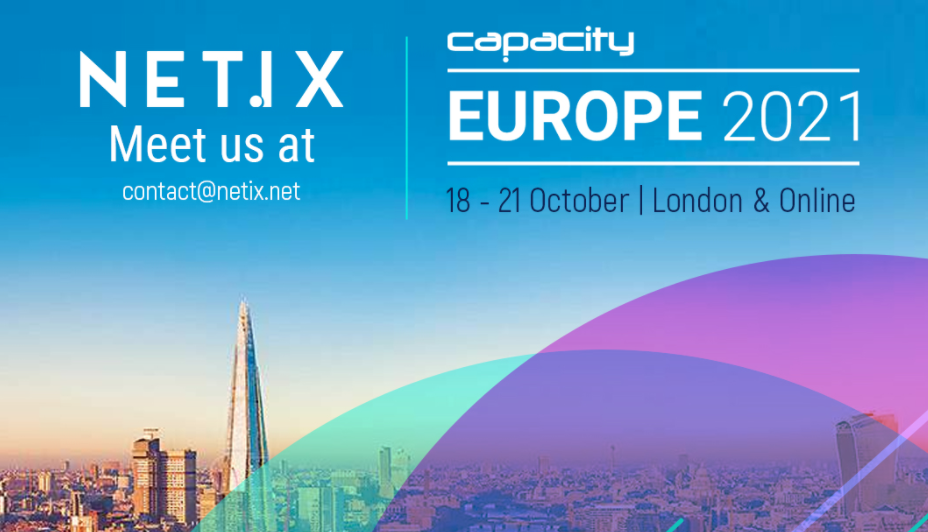 Capacity Europe 2021 will mark one of the first in-person events since March 2020.
Attending this event will be:
Neven Dilkov - Chief Executive Officer
Chris Harper - Chief Commercial Officer
Edgar Navarro - Global Sales
Capacity Europe 2021 will take place in London from October 18th - 21st.
NetIX is perfectly positioned to help you grow your network through our range of award-winning and network-enhancing services:
- Global Capacity: Get Point-to-Point/Multipoint connectivity across 150+ locations

- Peering: Access 30+ IXPs via one connection with our GIX solution, and other remote peering services

- DDoS protection: Deploy our Blackholing and Smart Blackholing service to protect your network against malicious attacks

- Audio/Video Streaming: Whether it's receiving or distribution, NetIX can support your media content streaming
If you have specific questions and would like to know further information about our network-enhacing solutions and how they will better your network, or if you'd like to arrange a meeting for Capacity Europe 2021, please get in touch with the NetIX team by clicking here!