 NetIX combines its Thessaloniki and Athens exchanges to create NetIX Greece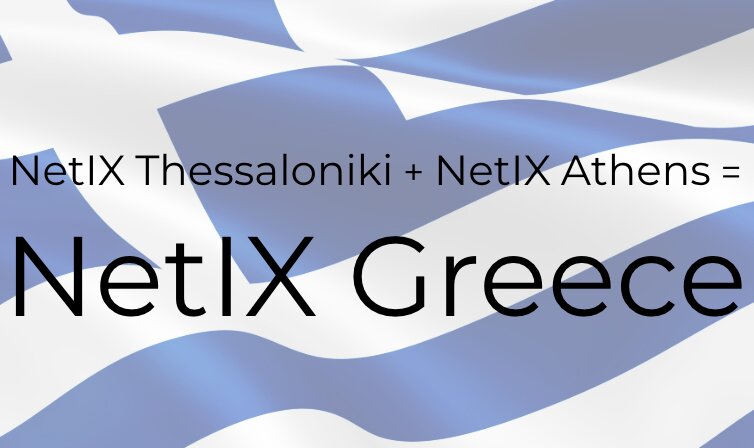 Sofia, Bulgaria – 26th July 2023: NetIX, the leading global distributed platform for award-winning connectivity and peering solutions, has today announced the merging of two of its regional Internet Exchanges in Thessaloniki and Athens to create NetIX Greece, in order to better serve its members with a much larger country-wide exchange.

This move will benefit members in both previously independently operated exchanges; members in the Thessaloniki exchange are now able to access all the Athens members and vice versa without any extra expense, build out, or investment.

"Combining these two exchanges will be highly beneficial for all our NetIX Greece members," said Dean Belev, VP of Services at NetIX. "They can now connect, access and deliver traffic from all over the country regardless of region providing a more cohesive network reach, and giving them an advantage over their competitors operating regionally."

NetIX Greece is available from any of our primary on-net Greek locations: TI Sparkle Greece (IDC), Balkan Gate, Lancom Thessaloniki DC, and Lancom Athens DC or, via any Point of Presence (PoP) on Lancom's network – who we work exclusively with in partnership across Greece.

NetIX has always been a key player in the Internet Exchange and peering enablement arena. The NetIX platform doesn't just concentrate on connecting new members and reaching new traffic peaks; there's a strong focus on supporting its members and adding new services they could benefit from. NetIX's GIX (Global Internet Exchange) service offers a unique spin on the standard peering model, and remains to be the only IXP to provide this service; the GIX service is exclusive to NetIX and its few specially-selected partners.

NetIX was awarded with the title "Best Peering Operator of the Year" at Carrier Community's Global Awards last month in Berlin. Neven Dilkov, founder and CEO at NetIX, commented, "NetIX is thrilled and honoured to be recognised as this global industry's Best Peering Operator of the Year. Providing the best peering service for our members has always been our driving force and we'll continue to do our best for them."

Peering at NetIX is beneficial to networks, ISPs, and content delivery networks of all sizes for three key reasons: lessening the need for IP transit significantly thus reducing network costs, reducing latency times, and increasing redundancy and improving network resiliency by providing a better end-user experience.

NetIX remains dedicated to being recognised as industry experts in Internet Exchanges, peering and peering services, to help improve local networks' connectivity and performance whilst providing better access to local content from anywhere in the world.

Are you ready to benefit from NetIX's award-winning peering services? Reach out to the team to discover new ways to improve and enhance your network reach by emailing [email protected] or visit netix.net for more information.

About NetIX 
Our next-generation network accelerates the Internet; we connect content creators with users faster, cheaper, and more directly than ever. 

Our network stretches across more than 200 global data centres in 65 cities from 55 countries. The NetIX platform connects our 180+ members to content from 9,000+ visible networks and 30+ Internet Exchanges and reaches daily peaks of 2Tb of traffic throughput.

NetIX offers the best possible Internet connectivity: our members can directly exchange traffic with peers, giving their end-users faster page-load times on 90% of the most popular sites.

Our members include Internet service providers, broadcasters, telecoms operators, and content delivery networks - all the peers your customers need to access!

About Lancom
Lancom, the leading provider of data center, cloud, and telecoms services in Greece, owns and operates three state-of-the-art Data Centers in Athens and Thessaloniki, along with a proprietary Fiber Optic Network that spans across Greece with worldwide connections. Balkan Gate Thessaloniki is the largest carrier-neutral Tier III data center in Northern Greece and is directly connected with major telecommunication providers in Greece and the Balkans. Lancom's recent investment in Crete will establish a dynamic telecommunications route in the wider region of the Balkans and the Southeastern Mediterranean.

George Nolis
"We are extremely pleased to be part of the creation of NetIX Greece, a critical step in the continuous improvement of the digital landscape in our country," says George Nolis, CEO of Lancom. "The strategic merge of the Thessaloniki and Athens exchanges signifies our deep commitment to enhancing connectivity, strengthening network infrastructure, and fostering the robust growth of Greece's telecommunications. Utilizing Lancom's Points of Presence throughout Greece, we empower our clients to establish connections, access resources, and distribute traffic with enhanced efficiency nationwide. As we begin this exciting new chapter, we remain firmly committed to continuously innovating and providing powerful, seamless connectivity solutions to our customers and our country."