 Can your network provider help you jump over 800 levels in peering rankings? Sawad Land became a top 80 ISP after deploying NetIX's GIX service.
Who is Sawad Land?
Sawad Land – founded in 2017 and headquartered in Baghdad, Iraq – provides services such as Internet and network connections, IT solutions, technical and logistical support for banks and government, and private establishments like local and global companies.

Sawad Land strives to support and develop the Iraqi community by ensuring its services offer the very best quality possible. In a short amount of time, Sawad Land has proved its right as a top player in the IT and telecom sector.

Sawad Land's mission focuses on their professionalism, their development and keeping up with global trends to take them to the next level.
How did you hear of NetIX?
Sawad Land researched network and peering service providers that could offer global solutions from a data centre they were already colocated in. Upon finding NetIX in Equinix Frankfurt and looking into their customer base and their many members, Sawad Land reached out to NetIX to ask for their help and support with their network plans.
The challenges:
Sawad Land wanted -
To connect in a data centre already on Sawad Land's network
More visibility in the peering arena
To find out which IXPs would be the best ones for their traffic to connect to
An increase in ranking providing a better appearance in the peering and network world
Access to more routes to provide enhanced connectivity for their customers
To reduce costs – especially to more expensive Internet Exchanges
A provider they could trust and with who they could expect a long-term partnership

The solution:
Firstly, the Sawad Land team worked with the NetIX NOC team to analyse its traffic to see which IXPs would offer the most comprehensive peering solution; NetIX provides access to more than 30 IXPs, so Sawad Land had an impressive range of available IXPs to choose from. Originally Sawad Land wanted to try some IXPs as a test to see how much traffic they could hand off this way, however offering free trials is not commonplace in the peering arena; luckily, this is an area that sets NetIX apart from other IXPs. NetIX NOC set up some free peering trials to demonstrate with accurate and true results what they could expect from our peering solutions; after seeing where most of their traffic was being routed, Sawad Land utilised NetIX's remote peering services and took individual connections to AMS-IX (the Amsterdam Internet Exchange), LINX (The London Internet Exchange), and MSK-IX (Moscow Internet Exchange).

They then complemented these services by adding NetIX's own Global Internet Exchange service (GIX) service to their portfolio which combines the routes of all 30+ IXPs they're connected to and deliver the routes via one VLAN across the NetIX platform. As an extra benefit to peering via the GIX, they were able to access IX.BR's routes (a Brazilian Internet Exchange), an IXP which they originally couldn't justify the cost of the membership to join via remote peering.

Sawad Land opted for a 10G NetIX port rather than multiple 1G ports as that allowed room to increase their connectivity easily without the need to upgrade straight away – which came in useful much sooner than expected! After only a couple of months of using their NetIX services, Sawad Land asked to upgrade their connection to AMS-IX not just once, but twice.

NetIX NOC – aware that Sawad Land's driving factor was to increase their visibility through their BGP routing and peering routes – advised them to visit routeviews.org and register their new sessions.
The result:
Sawad Land is thrilled with the results of working with NetIX:
They moved up over 800 positions on routeviews.org and are now considered very well connected, and big players in the connectivity/peering and BGP world
They have a firm grasp and understanding on where their traffic originates and where it's handed off
They have reduced their network running costs
They have reduced their reliance on more expensive IP Transit services
Via GIX, they have access to many unique ASNs they wouldn't access through major IXPs like AMS-IX, LINX and MSK-IX
They have access to a 24/7 NOC team at NetIX ready to help and assist with any query they may have

Are you ready to improve your network using the NetIX platform? To discover more ways how NetIX can improve your network, visit our peering services solutions page here. To speak to a member of the team about our services and solutions, please email the team: [email protected]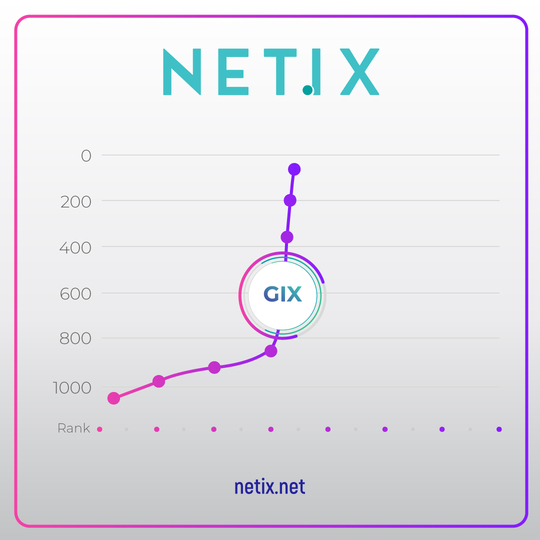 Download the case study here:
Sawad Land Case Study (Portuguese)
Download the case study here:
Sawad Land Case Study (English version)
Interested? Read more about the Global Internet Exchange (GIX) here!
Tell me more!
Enjoy the benefits like Sawad Land did with our GIX service. Get in touch with our expert team today: